According to a recent study from market research firm Global Market Insights, the digital twin market is set to grow from its current market value of more than US$4 billion (€3 billion) to over $35 billion (€29 billion) by 2026, gaining traction over the 2020 to 2026 period.
With technological innovations, the digital twin market is slated by the firm to record a period of lucrative revenue growth.
Digital twins are essentially virtual replicas of actual devices that IT professionals and data scientists use to conduct simulations to test equipment before deploying the actual devices and bringing them online. Today, digital twins are transforming how new technologies like analytics, Internet of Things (IoT), and artificial intelligence (AI) are optimised.
The more a digital twin duplicates the actual device, the more likely efficiencies and other benefits can be discovered. For instance, in terms of manufacturing, the more highly instrumented a component is, the more accurately its digital twin could simulate how the actual devices have operated overtime, which can help predict possible failures and future performance capabilities.
The overall digital twin market is bifurcated into different segments such as application, end-use, and regional landscape.
In terms of end-use, the market is categorised into manufacturing, healthcare, automotive, aerospace & defense, energy & utility, infrastructure buildings, retail & consumer goods. Among these, the ongoing digital transformation of the medical industry is likely to drive the healthcare segment share. As a result, digital twins for surgery planning and medical devices are expected to witness an increasing popularity over the forecast period.
The energy & utility segment is expected to register momentous gains over the coming years owing to the rising popularity of the concept throughout the global oil & gas industry. In fact, the segment is projected witness a lucrative growth rate of over 30% through the analysis period.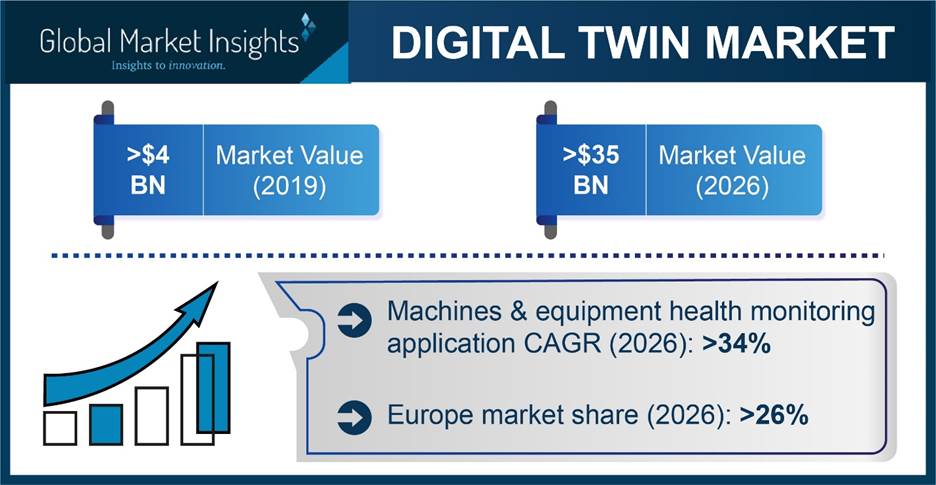 High demand for construction projects across the global market for producing high-level virtual representations is expected to bring in significant revenue growth opportunity to the industry landscape.
With respect to the retail & consumer goods segment, the market is expected to grow with a CAGR of around 32% through the forecast time period. The projected segment growth is expected to come from the rapidly increasing trend of adopting the technology for effectively generating comprehensive 3D models of supermarkets.
From the regional perspective, the LAMEA digital twin market is expected to grow as a significant rate over the coming years. With ongoing urbanisation and economic and industrial growth, the region has been witnessing a tremendous demand for energy. Subsequently, increasing adoption of the technology in the energy sector to improve efficiencies and establish a reliable grid would greatly shape the regional industry outlook over the forthcoming time frame.
Follow us and Comment on Twitter @TheEE_io