Joe Jensen is a vice president in the IoT Group and the general manager of the Retail Solutions Division at Intel which has been pioneering the usage of artificial intelligence in the retail industry for more than a decade.
Jensen joined the company in 1984 as a product engineer and holds a bachelor's degree in electrical engineering from South Dakota State University and an MBA degree from Arizona State University.
As retailers get to grips with the challenges presented by the COVID-19 pandemic, he tells Jim Moar, the lead analyst at Juniper Research, how Intel is helping retailers harness the power of artificial intelligence (AI) at the Edge. Importantly, it's not just about helping traditional retailers maximise shopfloor performance, AI goes deep into the supply chain and is also vital for online businesses entering the bricks and mortar world.
It's key to get all the technologies to come together at the right price point and deliver the right value proposition.

Joe Jensen
When machines are US$10-$30 million each, having AI could make sense, but you wouldn't install it in the kitchen of every restaurant

Joe Jensen
When a shopper comes in the store, if a product isn't on the shelf, then from the shopper's perspective, you're out of stock

Joe Jensen
Continue reading in The Evolving Enterprise magazine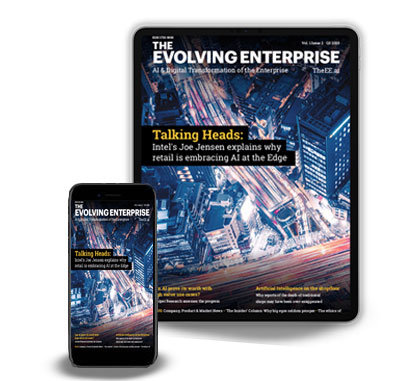 In this issue:

Analyst Report – The rise of AI in Retail and Financial Services
Intel reveals why retailers are embracing AI at the Edge
How malls will reinvent themselves: Las Vegas brings experiential retail to life
Researchers help keep an ethical eye on AI

READ NOW