The saying goes that retail is detail and it has never been more true as retailers gather more information about their customers' online and physical preferences than ever before. To an extent, there's even too much information being collected. However, customer data is only one aspect. Retailers have also amassed huge volumes of operational data which enables them to run their businesses efficiently. The challenge now is to automate and apply intelligence to retail data and processes, writes George Malim.
Artificial intelligence (AI) in retail hasn't really been about customer-facing innovations so far because immediately accessible large value can be achieved in the capabilities AI is bringing to the backroom to help optimise operations and gain greater insights into shoppers' behaviour. This is phase one of AI in retail and many retailers have completed or are well on the way to adopting AI for various backroom systems – and they're reaping the benefits. The next step is to become more shopper-facing and several different approaches are being taken to achieve this. These are broadly split into the transformation of traditional retail via new approaches such as the autonomous store or the experiential applications of AI for things like augmented reality mirrors, interactive walls or tactile experiences that need to be measured.
As always, and especially in these times of pandemic, retailers need to consider their strategies carefully and understand the pitfalls to watch out for, what constitutes best practice and how to manage expectations.
Continue reading in The Evolving Enterprise magazine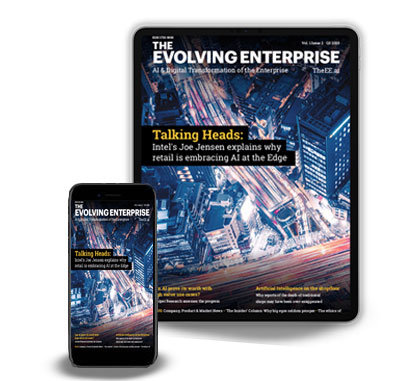 In this issue:

Analyst Report – The rise of AI in Retail and Financial Services
Intel reveals why retailers are embracing AI at the Edge
How malls will reinvent themselves: Las Vegas brings experiential retail to life
Researchers help keep an ethical eye on AI

READ NOW